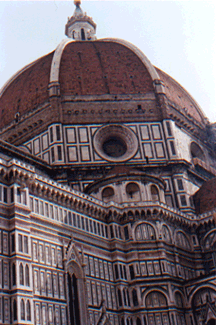 Note the very top of the Cupola of the famous Duomo in Florence, ....after climbing 630 circular, winding steps, we had a breath taking view over looking all of Florence.

Leaving Florence in our tiny Fiat Punto, we headed for Siena, and the
area of Umbria. From our farm house cottage high up in the Umbrian hills, we took day trips to the medieval towns of Perugia, Todi, Orvieto and Assisi.

We said good by to our little Fiat in Orvietto and hopped the train to Rome. From the rooftop patio of our hotel in Rome, we could look over the entire city! (next)